TSPUSSYHUNTERS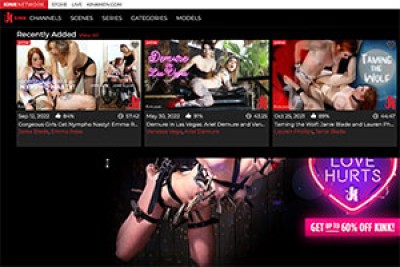 Overview
TsPussyHunters has a very special niche, it features kinky transsexual girls fucking regular cute girls. The site feels fresh and different from the start, if you are bored with regular action and you want something new and kinky this is a site for you.
Site Content
Tspussyhunters has an inviting and user-friendly design. Yes, everything feels naughty and wild. Girls featured in stockings are hot and represent the pure hotness of the site. What I like also is that the site is easy to navigate. Every button, search field, and log in to the site works perfectly and without problems. With this kind of navigation system implemented here, nothing will be too hard to find. You can sort the videos by popularity by upload date and etc. The designers of this site really did a good job.
If you are into kinky things, you will enjoy the colors of the TsPussyHunters black background with some white to make the good contrast and everything is put together great with hot pictures of sexy girls. I have tested TsPussyHunters on my mobile phones and my tablet, the site works great and is compatible with all mobile devices. You will not experience any drop in quality, streaming stuttering or any similar problem.
Actresses & Video Quality
Scenes and action on this site are hot, intense and very kinky. Transsexual girls fucking beautiful models just for your pleasure. Every scene is different and unique. If you like hot models giving blowjobs, hand jobs, and getting their pussy penetrated by another hot girl who has a dick, this is the only site for you. You cannot find a site that specializes in this niche, that has the quality that TsPussyHunters possess.
I am always picky when choosing which videos to view. Actresses that are featured on in videos on TsPussyHunters are pure professionals. From what I saw, they enjoy doing their job and they are very, very good at it. All the bitches are very hot and they are naughtily dressed and act slutty. In high heels and platforms, in stockings and hot leather outfits, you will find them showing what skills they got.
Currently, the video base stands at about 190 exclusive and unique videos that last on average around 40 minutes. All the videos are recorded professionally and are in HD quality. These videos are exclusive so you can't find them on any other site, but as a member, you will be the first to gain access and watch all the new hot videos just a seconds after release.
On tspussyhunters, you can view many kinky photos that capture best moments of action packed with hot girls. In total, the photo base is more than 191 galleries big, and in each gallery, there are about 150 photos. The photos are exciting and watching them I always get horny, I just love the kinky combinations these girls are dressed in, they make me cum, hard. Content is advertised as being exclusive and the best part is that members enjoy unlimited downloads!
In Few Words
If you are into transsexual action and kinky stuff you will really like TsPussyHunters as I do, you should most definitely check out this website and mark as a starting point of satisfying your cravings. The members enjoy special bonuses, access to exclusive and unique content, access to partner sites and special forums.
Visit TS Pussy Hunters >>