TWINKYTOONS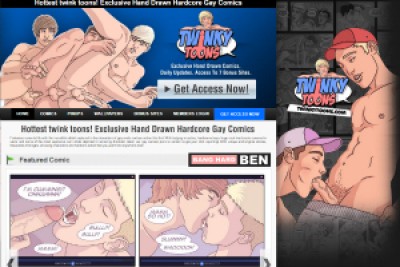 Overview
Twinky Toons is full of explicit cartoon images that make up a series of comic-book stories about gay guys having sex, lots and lots and lots of hardcore sex, from sucking to rimming to fucking to messy orgasms in all kinds of situations and in any available hole. There is a lot of erotic content here, with most of the guys showing off huge, thick cocks that stand permanently to attention.
Site Content
The artwork on the site is impressive, whether it's in the comics section itself or on the other pages, which are categorized into Pin Ups, Wallpapers and Clothed & Naked characters. The main section contains the series of comic strips, which is designed to be the website's main attraction. There are over 130 pages of comics, which consist of several different ongoing series, all with completely original content. We follow the adventures of a guy who becomes a porn actor and then get taken into fantasy worlds full of pirates and werewolves and, of course, exceptionally horny Twinks.
Actors & Video Quality
The Pin Up section offers over a hundred pages of sexy guys with massive cocks. There are drawings of guys wanking off solo, but you also get guys sucking each other off, duo fuck sessions, threesomes and gang bangs. The Clothed/Naked section shows drawings of Twinks fully clothed and then again, in exactly the same position, but completely exposed. The majority of naked pics show the guys with massive erect cocks, which are often dripping cum or shooting it.
The final section contains a number of illustrated images that can be saved as desktop wallpaper background. All images have a resolution of around 1600×1200, which makes for a pretty stunning backdrop on most computer screens. And there are plenty of guys to choose from, depending on your particular fancy. Well-endowed black guys are available for download alongside cute 'boy next door' white guys and super-fit models displaying bulging muscles, tight ass cheeks and molded six packs.
The only downside of Twinky Toons is that it has been a long time since the last update. However, for every downside, there is an upside too, so at least you can gain access to Gay Life Network's bonus sites, which include videos of gay guys getting off on each other in all manner of ways, and none of that is animated! The sign-up page includes a discount for the monthly membership for a limited time, so if you're curious, you'd be advised to take advantage of the offer.
In Few Words
Twinky Toons is definitely one of the best gay niche sites on the Internet. It boasts quality erotic art and fun storylines, with the added advantage of being linked to bonus sites that include videos of the real deal. The fact that the characters in these comic books aren't real actually makes the whole experience more exciting. Any inhibitions are thrown completely out of the window, which allows us to explore our own fantasies in the same way.
Visit TwinkyToons >>
---
Need to clear further doubts?
Have a look at some other TWINKYTOONS tips on some other great porn review sites!
---