UKNUDEGIRLS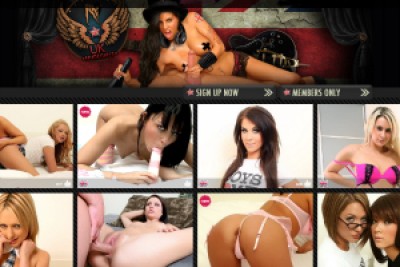 Overview
Honestly the name speaks for itself really. You'll see nude women masturbating for your pleasure. There is some girl on girl action here that's been shot from such amazing angles that you'll think you're in the middle.
Site Content
The busty woman at the top of the page, sporting a UK flag on her shoulder, shows the website means business. That cock grip and lust in her eyes make for a great introduction to this British porn site. A multitude of previews are shown on the main page. The models are hot and bare all from the moment you enter.
The member area may seem confusing at first glance, but the 7 menus are actually designed to make life easier. They provide quick ways of sorting your videos or pictures alphabetically, by date, popularity or views. Among other categories, there is a popular option among members, called top 10. If you're looking for the hottest models, you'll find them there.
It won't be the fastest mobile navigation you'll ever experience, but it is accurate and runs smoothly. Once you get used to using all the search options from your phone or iPad, life will become easier. Although I don't always see the point in watching porn without a big screen, the short duration of the videos can make some great on the fly material.
Actresses & Video Quality
In case it wasn't clear, these chicks are brits, some of the hottest brits to be exact. The women will tease you with their bodies and will make you tremble to your core with the pleasure they take in pussy licking. Either if you watch solo or girl on girl, their accents will get to you as much as their curves.
Even if you may not recognize every model, I doubt that more than just a fraction of them are amateurs. The intensity levels of the orgasms you'll witness are signs of great experience and passion for pleasing both partners and viewers. At least 200 scenes are available and I'm sure there isn't one woman there at her first rodeo.
The average length for a video is about 15 minutes. While it is unfortunate that not all the scenes are shot in HD, the SD options also stream and download at top speeds. MP4, flash and iOS compatible formats are available for members to save on their drives at will. Since the run times are quite short, you can imagine that the download speeds are super-fast.
Being a member on Uknudegirls has a lot to offer. Before choosing the one month or 3 month plan you can check out the 3 day trial. Many of the girls you can preview already, but if you wish to test the buffering or transfer speeds, that is a great option to consider.
In Few Words
If you like the accent and like to spend time choosing between more hot women than you'll ever see on the street, this is the place to be. If you don't like the accent, this is still the place to visit. You can always turn the volume down.
This site has been closed, find similar content on our best European porn sites collection.