VERSOCINEMA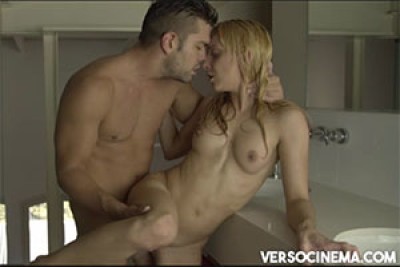 Overview
Verso Cinema presents you with the holistic event of sex. There is no effort to try and specialize in a given niche; just a different approach that leads to real sexual pleasure in real life. Most of the videos are shot in outdoor locations in what seems like excursions. However, you also get lots of sex content captured in the comfy places in homes. Girls fuck on couches, kitchens, bathrooms and other places; the sex is spontaneous and great to watch.
Site Content
Verso Cinema is wrapped in snow-white background décor. The scenes are shot in various locations that come with their own backgrounds. Users are treated to a rich set of user tools that can be spotted right on the home page. I could check out the movies available right from the video trailer offered. There is a list of categories to allow you to view the services available too. The home page is also filled with an array of tagged captions that open to the actual movies; once you click on them. The model index allows you to check out the girls of your choice and follow them in the various performances. The movies are also titled. So you can check out the movies by titles and their director. Indeed, Verso Cinema is the only place I've seen with a variety of directors for the varying sex scenes. Some of the available titles include Belle Dame Sans Merci, Bluette, Maquillaje and Shave. Users can stream videos and download as much as they wish; once subscribed. I could also view the content on this unique platform straight from my mobile phone. The loading speed is impressively fast and seamless.
Actresses & Video Quality
The models on Verso Cinema are some of the hottest cuties I've met on the porn scene. The cuties are largely drawn from Europe but I bet some of them have mixed lineage. I could sport some Asian features on some. The set is generally hot and tempting. The content on Verso Cinema moves from soft porn scenes to really steamy hot amateur sex content that will get you drooling shortly after you open the arena. You are treated to classic romance involving hunks and models in remote locations. There is hardcore stuff that shows you cuties being rammed hard on the ground in the bush or just fucked as they hold on to a tree.
Yet, perhaps, I'm jumping the gun here. These sex scenes do not just land on the screen from the blue as it happens on other porn platforms. You are mentally prepared. A girl meets a dude at a cinema place and likes him, they exchange glances and flirting starts. Some scenes show couples in their home assisting each other to do such simple chores as shaving their beard. I also loved the cherry sucking scenes in which girls spread wide for dudes to suck them deep and hard. Some blowjobs and hand jobs are also brought in crisp clear videos for your maximum arousal. All the seductive sessions, that seem to take a little long, end up in some of the most sensual sex encounters in porn. They look so natural that you are pushed to the edge by the time you come to the end of a scene. There are many tempting videos to sample. You have over 24 videos to sample in MP4 and Flash Player formats. These flicks come with an average playback of 15 minutes each.
In Few Words
Verso Cinema is the ultimate place for thoughtful sex entertainment. The videos come in full HD. Navigation is blissful and fun. The girls are some of the most daring and gorgeous ones in porn.
Visit VersoCinema >>