VIVIDCAMS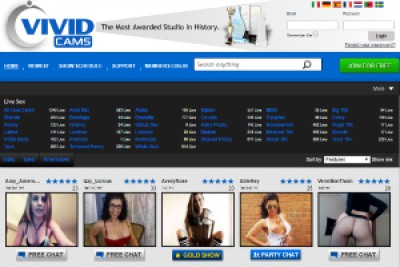 Overview
When it comes to handing power and control to the porn lovers all around the globe, all I can say is that VividCams has played a very big role in doing just that. Thanks to this site, porn lovers can actually dictate whatever they want to watch without having to work too darn hard for that privilege which is more or less amazing.
It is somewhat very easy for anyone to pick out the girl of their dreams, or guy or shemale, and get to tell them what they want. If you want shemales to pull out their long, nice cocks and start masturbating until they cum, all that will be required of you is just to say the word and you will be good to go. And the same applies to whichever place you would like to enjoy.
VividCams is also conveniently developed. And as such, finding your way through the site wouldn't be that much of a hustle. In addition to that, there are quite a number of features that you will be required to check out in order to keep on enjoying yourself as much as possible.
Site Content
As stated above, VividCams is all about simplicity. You can get to find the number of categories or fetishes at the top of the site as well as the number of hosts available at the time of your logging in. So if you are into anal play, whether for guys or for girls or for shemales, just click on it and you will find a handful of hosts doing the same thing.
There are blue stars on each of the profiles on the top right. These stars show how many people have loved the hosts and can help you find the best suit for you. Check out their statuses if it's for a free chat, party chat or the gold show. Always feel free to pick out the girls that you want and everything will work out in your favor without any problems at all.
VividCams the HD and sound icons are situated on the top left of each profile just as a reminder that there is nothing in here but the highest of qualities, which are why I loved this site. So whether you want to see couples fucking or just a solo host teasing you with their erotic features, you need to make sure that you are signed up.
Actresses & Video Quality
VividCams has got a lot of hosts for you to pick from. And the good thing about having a lot of hosts to enjoy from is also the wide variety of sexual fetishes that you can get to enjoy. If you want face sitting, masturbation, anal sex, oral sex, squirting and any other form of fetish, you will get sorted out with this wide range of cute and horny hosts ready to please you at any given time.
From the likes of Pretty Milf, Manika Rose the redhead, Passionate Flow as well as Sensual Suzette, you can always pick out the girls, guys or shemales that you want. And they never get to disappoint once you have chosen them if the five-star ratings that they have are anything to go by. Also if you love creampies, you can always have the chance to pick out whatever you want.
These hosts are skilled as they are polite, which means that they will always get to sort you out within the shortest time possible, which has got its fair share of advantages. Always get to request whatever it is that you want to enjoy. For instance, if you want a huge cock sucked, just say so. And without further ado, your host will not waste any more time and make sure that the huge, throbbing cock is sucked until she gets her mouth filled with cum if that's what you want.
In Few Words
Once in a while, we all just want to dish out instructions on how you would like to watch your porn. And quite thankfully, VividCams has managed to give us that opportunity which has, in turn, made things a tad amazing. I loved the fact that there is a wide variety of girls, who are skilled in a wide variety of fetishes.
So if you are into stripping and pussy fingering, then you can rest assured that you will find everything that you need without having to work too hard. You will also find gay guys, couples as well as the shemales that you love so much. And all that will be required of you is to know what kinds of sexy and horny hosts that you are looking for. And once that has been established, then you will most certainly be good to go.
The fact that you are the one to call the shots is rather intriguing. I loved how you would tell a girl to spread her pussy cheeks and play with their erect clits to the point that they cum and they get to do it. Also, there are the Squirters who will also give you something to enjoy. These hosts have a wide variety of body types which will almost always work out for everyone. VividCams is very easy to navigate through. And as I had stated above, it's because of its very convenient features which I totally loved and appreciated.
Visit Vivid Cams >>
---
Need to clear further doubts?
Have a look at some other VIVID CAMS tips on some other great porn review sites!
---