VOYEURBITCHES
Overview
Great voyeur xxx site, VoyeurBitches is one of the best destinations online if you are in search of the hottest onlookers in town! If you love the sight of gorgeous darling filming their lovers while they are doing some steamy acts, then this growing collection is definitely for you. Filmed in full HD, rest assured that you could unleash all of your voyeur fantasies inside. Come at once and enjoy the fetish-filled scenes today!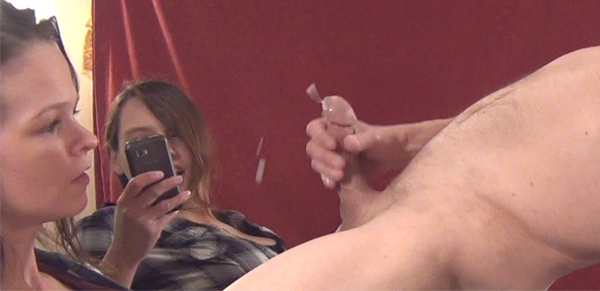 Site Content
The official website gives you a lot of sample treats. A full-screen image of a naughty slut that seemed to be engrossed in watching a guy masturbate is what would greet you here. The design has a homey feel and the layout is pretty basic, which puts you at ease when it comes to browsing.
Guests can take advantage of the sample previews. You can see the thumbnails on the homepage with an invitation to click the link. Once you do, you'll be able to enjoy the previews of the videos that mostly run for two minutes. The sets are clearly not porn studios, which would make you feel the reality of the scenes even more. From cluttered bedrooms to cars, you can see horny sweethearts with cameras on hand.
There are plenty of samples that you can check out in order to see if this voyeur community is worth joining or not. Well, I can only say that if you're a real voyeur fan, there is nothing here that you wouldn't love. From chicks watching guys masturbate to the naughtier ones who even use sex toys for added entertainment, rest assured that you'll have a sexually good time. New videos are coming on a consistent basis and the membership packages are some of the most generous offers you can see in miles around. This is definitely worth checking out.
Actresses & Video Quality
VoyeurBitches is a CFNM site that is packed with a voyeuristic element. The actions might be categorized as softcore but definitely, the porn entertainment level is at its highest. Most of the movies star one or more chicks, talking dirty while filming a guy stroking his cock back and forth. At some point, some will even request for other positions or even incorporate some sex toys to make the actions hotter. And of course, they would wait patiently until the guy jerks off and shoot his load, either on the floor or on the onlooker's hand. From the models that include amateur sweethearts and even naughty cougars, you can easily pick whom you want to watch.
In Few Words
VoyeurBitches brings you pretty sweethearts who just can't get enough of something they see. They are very curious on how a dude masturbates and you can see the glow in their faces as the dicks are getting harder and harder. And what more can they do better than to have the act in record? If you're a curious and horny onlooker too, then it's time to take your voyeur entertainment to the next level.
Visit VoyeurBitches >>