WATERBONDAGE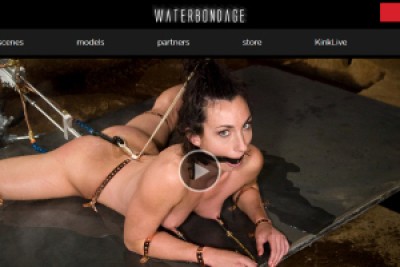 Overview
The presence of both wet and heat are combined to give your sexual pleasure the best of both worlds. WaterBondage drenches the girls into orgasms with sites exciting enough to make you sweat and salivate in delight. It is considered a one of kind website nowadays. The site and the sights are more than enough to tempt even the most discriminating porn customers to get hooked. The lethal combination of sexy and adrenaline-rush with all the water treatments the wonderful women are subjected to is enough for many to come back again and again.
Site Content
Any temperature rising scenes seeking horny individuals will have their fill with the website. The presence of girls in many positions and poses as they get wet and come to a climax while being suspended, submerged, hosed and doused with water are pure fetish heaven. Lucky enough, the archive of pussies are steaming wet with dripping water that only WaterBondage can provide. Savor the more than 250 picture sets available plus HD materials to playback and download for your convenience. Be aware that all materials onsite are delicious as they are interesting in complete succulent sights and sounds of moans and sexual fantasies. Know that the amount of content will more than meet your expectations and desires.
The site has a lot to offer and present its customer base. Not only that, the exclusive and almost singular site for anything water based fantasies and fetishes about, WaterBondage assures they have plenty of these flicks around to keep you going. The girls are tied, gagged, water-filled while they do their thing. Be it being satisfied with different sex toys, getting filled and dildoed and made to get off while their faces are submerged in water are visuals you cannot get out of your head (both heads, pun intended). The rush in your veins when you see the hot girls bob up and down the water while being water treated and suspended are unforgettable. Ropes are being implemented in many instances, ball gags are used often and so are clamps for nipple and pussy manipulation. It is hardcore BDSM as it can get. Pushing the female limits in ultimate submission and follow around, orgasm explode like no other.
With such originality in its content, the unique and almost first of its kind kinky videos, WaterBondage appeal to water loving people and its crowd. The many films onboard are enough to keep your hands busy, your pulse over clocking and heart beating faster than usual. The BDSM spin is a creative result of imaginary minds involved in the video production. The availability of sexual stunts and toys make your mind go on an overdrive and your desire to masturbate is very much a reality. High-quality stuff and thrilling actions keep you at the edge of sexual excitement all the time. The site interface is a major draw with the array of girls properly lined up for you to choose from. Comments are allowed on each scene with full download capabilities permitted. Zip files are available for multiple clips and picture sets. The search function makes it quicker to look for your interests instead of browsing through the content one by one. WaterBondage makes it easy and fast.
Actresses & Video Quality
Now let's talk about girls on the site. As WaterBondage is not your usual web page providing an instant view of hot women, its unique content of pictures in high-resolution and HD videos feature the best names in the industry. Apart from exclusivity, names like Mia Bangg and Tiffany Holiday are shown enjoying and getting thrilled with the knock-out combination of water and discipline. Delilah Strong is also a top-draw in showing what she is capable of in and out of the water. The Masters and their assistants bend your limits with images that combine sex and power. The fetish is enough to make one a fanatic of water stimulation. The updates are all over featuring thousands of photos and hundreds of videos dedicated to the site alone. It is very true to claim that the available films and pictures are never seen anywhere else. As mentioned, the creativity involved is clearly seen and can be appreciated by anyone looking at this particular sexual dimension.
Hardcore scenes involve a beautiful girl who is bound and gagged. Slowly, water is being introduced until she becomes engaged enough to climax. Simultaneous to this, she is being submerged into and out of the water that provides a unique view of being satisfied by all possibilities that water and obsession can provide. Collared and suspended in mid-air, restrained and slowly being let go the water discipline is more than enough to be contained that subscribers are likewise satisfied beyond belief that these sites are exciting, provocative and truly one of a kind. When the women are hosed off with torrents of clear liquid, dunked and submitted to erotic water activities, it is a water dungeon dream come true for everyone. All those role playing and sex games are coming alive right before your eyes. It's a sexual water world after all. All things you have imagined and more will be fulfilled in this site. The featured bombshells are trained well to combine the light and darkness in the dungeon for the best water-filled delights and actions. Imagine the water hose tracing the silhouette of the girl, licking her necks, boobs, thighs and legs. Then suddenly focusing on her pussy, kissing it softly then later becoming more and more penetrating until she cannot take it anymore and she comes while her head floats in and out the water tub.
In Few Words
The scenes are very much water-based hardcore that is not easily found in other websites. So if you delight in seeing gorgeous women in BDSM glory being disciplined through water then WaterBondage is for you.
Visit WaterBondage >>