WELIKETOSUCK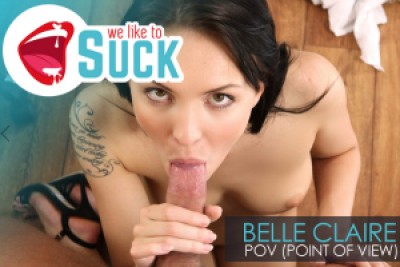 Overview
The website you need to check when looking for girls who love to suck cocks is Weliketosuck. Here is the home of all the cock sucking, sperm jobs, blow jobs and hand jobs you can ever fantasize about. Wet girls from Europe are waiting for your cock and man, you don't want to disappoint these hotties! Apart from all that blowing action, there are some high-quality anal fucks involved, as well as hardcore screwing to watch, all 100% original so that you won't find the same content on other websites. The scenes come in HD, so you can enjoy every single bit of these sluts while they use their kinky tongues and push all the right buttons to provide you with all the blowjobbing porn you want and need to see. Ready to meet them?
Site Content
Weliketosuck is part of the Puffy Network, so once you register for one site, you can access the unique content from all the websites. And with hundreds of hours of porn to watch, you want to explore all the websites in the network. Apart from Weliketosuck, which is all about girls who love to suck dick, there are lots of other porn goodies to watch, all in amazing high-quality. Puffy Network features websites dedicated to pussy lovers, wet piss lovers and good sperm facial lovers, all updated on a regular basis for your pure pleasure. When it comes to pussies, Puffy knows best, as it harbors the only vagina classification website in the industry, for your expert eye to enjoy. Speaking of joy, if you find a wet pussy attractive, you will definitely need to take it up-close and personal with another Pussy website, this time dedicated to all the warm piss you can get out of a pussy. Before you go away, have a look at Weliketosuck cousin website from within the network, which offers HD cumshot facials for the nasty girls who don't want to play it nice.
Actresses & Video Quality
Apart from the videos, there are photos, too, so if you want to turn on your engine while looking at these hot girls in a static format, you're in the right place. The girls, mostly white-skinned Caucasians, also have their own profiles filled in on the website, so you can select one girl to find out more about her. Redheads, brunettes and slutty blondes, are here, just for you to enjoy. They also come in different shapes, some fragile-looking, but really in love with sucking that cock of yours, others really horny and ready for hardcore action. Weliketosuck features fresh chicks, with angel-like pretty faces, but don't be deceived by their looks, as they are definitely what you are looking for when you need a good blowjob. Being fresh as a minty, doesn't mean they lack experience, so expect to find some experts in the porn field. There are also pierces to be found on the website so that you can enjoy a mouthful of orgasmic joy watching these thirsty girls in action. Their pussies are wet and shaved so that you can examine every inch of their rosy lips and cheeks, all wide open for cocky fun. For the members who believe that one to one is boring, there are threesomes to watch, just as dirty as all the other movies, so you don't get bored. The girls at Weliketosuck love the cock and love to fool around with every sexy toy you can imagine, so you can view them in full swing, ready to make you cum. Nothing is being left untouched, unlicked, unsucked!
In Few Words
Safety comes first always and Weliketosuck is no exception to the rule. Your membership allows you to surf the sucking bitches in a discrete, private way, so you can be the only one who gets to enjoy the slutty Europeans.
With one account you can access all the fresh chicks who like to suck it deep or never seem to get enough cumshot glaze on their faces, boobs and in their pussies. All the girls are adults, so you don't have to worry about seeing something you shouldn't have seen, as Weliketosuck checks all their models before posting any type of content online. The site provides adult only restrictions, so it's completely safe. It also complies with the U.S.C. 2257 Record-Keeping Requirements Compliance Statement, so your membership details are safe within the Puffy Network. If you have any additional questions, you can easily contact the masters of Weliketosuck, without having to share your email publicly. Weliketosuck offers three different membership plans for your to choose from, depending on your needs. For a shallow check up on the scenes and the girls, you can pick the one month's plan, at only $29.95 and let the horny girls care for your lust. If you want to go deeper, you need to take your time and pick the three months plan at $69.95, so you can enjoy all the cock sucking going on Weliketosuck. If you really want to get serious about your dick, go with the six months plan and allow yourself to relax multiple months for only $99.95. The payment options are also flexible, so you can register on the website with your credit card and trust the verified payment processor for your transactions. Last but not least, the quality of the movies and the photos satisfies even the most demanding cock, so there's wonder Weliketosuck features some special "treats" like freckled redheads having a messy shot, in the crystal clear images you can watch how every single spot on that slut's face gets covered while you cum on her.
Visit We Like To Suck >>