WETANDPISSY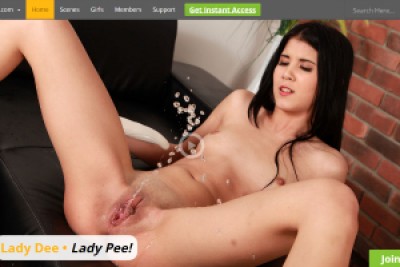 Overview
The combination of a pretty girl drinking her urine is one that we prefer not to imagine. Most people consider this pretty disgusting. But what if urine was used for pleasure? What if it was the only thing standing between you and a full blown orgasm? Well, you never go know until you try, right? Watersports is the name of the fetish and it will shock you and thrill you at the same time. You will meet gorgeous girls who show you that their pass is nothing but an extra piece of their class board of pleasure. Surprised? Well, just you wait and find out what WetandPissy has in store for you.
While you may prefer to relieve your full bladder in the toilet, the porn stars on Wet And Pissy have an affinity for the floor. They relish in their piss and eventually top things off with an orgasm. The girls are seductive and make everything about their golden nectars truly desirable. The pee-gasms are worth every minute of your time. The site is not simply selling itself when it says does. Your definition of adult entertainment is not relevant here because you will simply be met at your point of pleasure. If you thought that you have seen pissing sites before, you haven't seen anything yet. The best thing about WetandPissy is that it is accommodating to everyone. While most adult sites may rely on scripted content, this one showcases its originality by giving you a front row seat with scenes that have not been tweaked in order to ensure that you get good entertainment. No, sir! The flicks WetandPissy are highly talented and it does not take much to get you hooked to the screen. This is my kind of action!
To add on the high level of entertainment, WetandPissy has a good-sized collection. There are 250+ videos and an equal number of photo galleries that will give you your fix of pleasure. The scenes are 15 minutes in length but this is enough time to ensure that you also get your kinky on. The scenes are downloadable in WMV and MP4 format. They can also be streamed in a flash player at 1920×1800 high resolution. The PuffyNetwork has always been known for good entertainment, therefore, you can be sure that you are signing up for the best. This is not the third-grade watersports sites that you are used to. Three bonus sites are included with membership to this adult platform. The bonus sites also feature good water sports actions and ensures that you get much more enjoyment. There is no download limit to what you can enjoy. Live feeds and bonus feeds are also part of the equation.
Site Content
WetandPissy has a unique layout that proves how detail-oriented the producers of the site are. We already established the fact that you will enjoy the videos in high definition. The photos will blow your mind. They have been shot in poster size and notably with incredible equipment. The galleries may just be the best part of the site. When browsing through the galleries, you will love the fact that one page collapses and gives way to the next one. This goes on and on as you tour. This is a really beautiful design element.
The model index has all the stars in order. You will get information like the height, weight, and even cup size. You do not need to play guessing games with what you see. The lighting is superb and the producer surely focused on the models good size. I mean, there is nothing bad that can be about WetandPissy as far as design elements are concerned. There is a list of keywords that will facilitate the search. The videos contain descriptions, length, and the rating. There are also links to the bonus pages and the simply showcases how hot the action is. The leaps of content are appealing to the eyes.
Actresses & Video Quality
The porn stars and models on WetandPissy show that there are many ways to get pleasure. While peeing may be the last thing that you think about, they will show you ways that it can come handy. You will enjoy them drinking their urine, putting it in a bottle and having an orgasm while they pee. This will truly turn you on. The models are all overly gorgeous. On a scale of one to ten, they are perfect elevens. Their bodies are tight and it is evident that they do everything to keep them in check. You will meet Jimena, an overly sexy hottie who is dressed in nothing but red stockings. She has the body of a goddess and is willing to go all the way for pleasure.
Jimena Pees on herself and relishes in everything that her warm golden nectar has to offer. As she masturbates, she will motivate you to turn yourself on too. On the other hand, Wet Olivia pees in a cup and wishes her body in this delightful substance. Without a care in the world, she lays bare on the floor and takes real control of her own pleasure. All of the models have the need for satisfaction in common and they go to great lengths to get. Those who use sex toys like Ivana Sugar makes things even hotter. As they penetrate themselves, they will teach you various angles of the pussy that will make anyone crazy. The action is on point and hopefully, it gets you to the amazing point of desire. The girls themselves are something between a dream and a miracle.
In Few Words
Yet again, we cannot be surprised by what the adult industry has to offer in WetandPissy. The action is worth it in every way and introduces you to a new circle of things that you had not explored. Brace yourself for the best as this porn site does not under-deliver.
Visit Wet And Pissy >>
---
Need to clear further doubts?
Have a look at some other WET AND PISSY tips on some other great porn review sites!
---