XENO3DX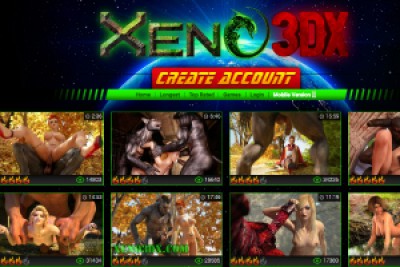 Overview
The Xeno3DX is another paid porn site of the folks responsible for the Insane3D. On this site, you can find a lot of animations, featuring hardcore sex of hot chicks and different creatures. The site has some genuine content, and what we know about this portal is enough to make us curious about its future. The Xeno3DX will take you to the next level, and we are certain that you will love these videos, especially if you are tired of the regular real-life pornography with so much overplaying, faking, and limitations. Here, your fantasies are coming to life, in the form of short, but exciting hardcore animations. The Xeno3DX is a standalone website, which has some interesting porn videos, and it also claims to offer some extras. But, before we explore the actual content, let's take a look on the background of this promising 3D-porn website.
We were able to depict from the information morsels of this site that it's run by a company, which has been in this business for a year and a half. According to the site's own claims and ToS, this is company from the United Kingdom, and the content here is exclusive to the company, but some of the Xeno3DX's videos and photos are available on other sites of this company. It's not a bad thing though, because the content keeps coming and the contract artists are doing a really fine job. (By the way, if you feel like you could do such animations or picture galleries, you can sign up to be an artist for the site). The Xeno3DX seems to update regularly, it seems to be on a weekly schedule.
The videos are exclusive to the company, so you can't find it on other, non-related porn sites. As we can depict from the available information, the site is rather new, and it launched during this year, so it has a long way ahead to become a really successful porn site. Since it's a rather new site, we can't tell you exactly about its true nature, but we have to say that there are some really good porn videos here, and the juicy sex in them are making it worthwhile to explore. Even better, you get here some extras. There seem to be only videos here as the main content, but you might run into some pictures too. Also, there are Flash-games to enjoy, and they all feature neat and sexy things. The games are a good way to beat your free time, while you wait for yours shaker to cool off. It looks like there are bonus videos too, and the site promises more to come.
Site Content
There isn't much to do on the tour page of the Xeno3DX, but you can gather some insight on the content when you open the site. The first you will see is the big banner of the site, which feels a bit retro, this kind of stuff was cool in the late 90s. A bit lower you will the menu, followed by the actual list of the videos. Now, we know you are no fool, so we won't say that the claims the site states are all true. As you take a look on the pictures, you can see a length featured on them, but as you go lower, you will see pic from the same scene, claiming another length. It's not a good tactic, but we can't do anything with it. So, we counted about 20 unique videos listed, and that's a good number for new site; it's an exceptional number if you also keep in mind the unique nature of the content. When you enter the members' area, you will find a simple page, which has only few ways for you to navigate through the content. Since there isn't that much porn for you, it won't be much of an issue. You can find what you like really quickly. Also, the site works with mobiles too, so that won't be an issue either.
Actresses & Video Quality
The models here are sexy, and they are unbelievably flexible. You will find here girls fucking around like there is no tomorrow. To be honest, we find these girls representing a strange, and not too fortunate ideal of women. According to these videos, a girl has to be fresh, and she has to endure everything his male partner is doing to her. The artists who created these videos seem to like cute girls, but they don't respect them, so they use their body as they please. And that's why the videos here are so exciting. The chicks are getting fucked hard in every hole, and the guys they have to take on are usually way too-well hung to be really good to feel inside. Every scene has a story, sometimes it's just a fantasy coming from some crazy and horny guys' imagination, sometimes its fairy tale gone bad, or it happens a lot, when mythological creatures appear and fuck their way to glory. Some of the videos are actual animations, products of a complex procedure, but there are a few which seem to be only animated standstills. These look weird, so you will recognize them, but there aren't much of them.
In Few Words
The Xeno3DX certainly has something for the eager viewers, but we are positive that the scenes here will satisfy almost everyone. If you love this kind of sex, or you just want to take a break from the regular porn, then the Xeno3DX has some interesting porn for you. The videos are done in high-quality, and many of them are really detailed, they also look good on full-screen. Check them out if you are interested in this type of pornography.
Visit Xeno 3DX >>